{department.meta_title}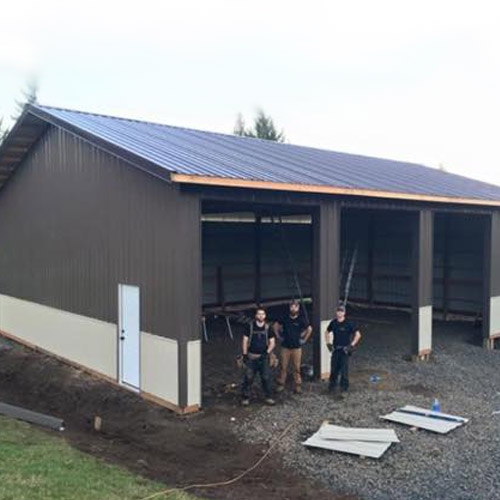 Pole Barns
Pole barn, Pole building or Post-Frame building is a method of construction that allows you to build with vertical, upright posts, then attach the wall framing horizontally to the post. First the post hole is dug in the ground. Then, the post is placed vertical in the hole. Next, the concrete or crushed rock is added around the post and you fill up the hole. This type of construction has been around for hundreds of years and is the most economical way of constructing, compared to other types of framing structures. Add a metal roof to combat the ravages of Mother Nature and add fire-resistance to the structure. From machinery storage and garages to environment-controlled housing for livestock, Withers Lumber can help you get the building materials you need to construct the pole barns that will meet your residential, agricultural, and light commercial needs.
Pole Barn Products You Know, From a Name You Can Trust
Click on the supplier and manufacturer logos below to visit their web site.
Need Some Pricing on Your Next Project?
Our staff is eager to serve the needs of our customers on a variety of projects.
Please let us know some of the details of your project in the fields below and a member of our staff will be more than happy to assist you.
Thanks for thinking of us for your next project.
We look forward to helping make it a success.
Sign up for our Email List
Stay updated with all our latest posts, products and offers! Just enter your information below.